Accidents at Work
Kentucky Work Accident Lawyers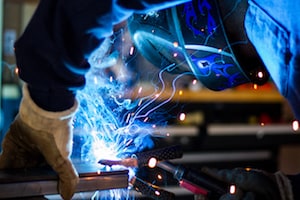 Unfortunately, accidents can happen at work. The results of these accidents can be injuries that are relatively minor, including bruises or cuts, or worse, including broken bones, strains, dislocated joints, burns, dismemberment or even death. Your employer has an obligation to care for you in your workplace, including providing what you need to recover from the trauma of an accident.
In the case of a death in the workplace, the family of the employee may be eligible for compensation to help recover from the loss of income the family member provided.
Workers' Compensation insurance should help injured workers following a work accident.
If you are injured on the job, you should always report the incident to your immediate supervisor or employer. The employer should have workers' compensation insurance that should cover your medical bills. You should never pay out of pocket or a co-payment for an office visit for treatment of the work-related injury. If this occurs, you are entitled to a reimbursement. The workers' compensation insurance should also reimburse the mileage you travel round trip at the current rate set by Kentucky statute. If the treating physician places you off from work for more than seven work days, the workers' compensation benefits should pay 66 2/3 percent of lost wages, based upon your average weekly rate.
Work injuries are common
A work injury is a relatively common occurrence, with 3.8 million injuries on the job in 2015, the Bureau of Labor Statistics reported. About 80 percent of those were in private workplaces, while the rest were in state and local government jobs. The national average rate of job injuries in 2015 was 3.0 workers injured for every 100 workers on the job in the private sector. Kentucky's job injury rate is higher, with an average of 3.5 workers injured for every 100 on the job in the private sector.
The industries experiencing the highest rate of injury on the job are manufacturing, construction, agriculture, warehousing and retail. Each of those work places requires physical labor and operating machinery that can fail. Human mistakes, too, take their toll. Workers who have put in long hours may find it hard to make judgement calls, especially as their shift goes on.
Types of work injuries
A worker can be injured in many ways. This can include tripping, especially over objects carelessly left in pathways, or slipping and falling in a spill that's not marked or properly cleaned up. One worker may accidentally hit another with a hard object, such as a large piece of wood on a construction site, or may accidentally hit someone with a fork lift, vehicle or side-loader.
Injuries can come from workers attempting to lift something that's entirely too heavy or poorly positioned, or from being forced to hurry a job that needs more time.
Injuries can take the form of a back strain, pull or fracture, or damage to the neck, knee or shoulder. Anyone who is injured at work should seek proper medical care as quickly as possible. In most cases, an employer will have workers' compensation insurance that will help workers who need medical assistance and compensation for lost work time.
Our experienced workers' comp attorneys can help you
Workers' compensation can be confusing. We can assist you in handling the paperwork and helping you navigate your claim for your work related injury. Contact us at (270) 781-6500 or fill out our contact form. We provide a free initial consultation of your case.