Bed & Pressure Sores
Kentucky Nursing Home Abuse Attorneys
Nursing home residents confined to a bed or a wheelchair for a long period of time face unique dangers. Bed sores and pressure sores pose significant threats to nursing home residents, and nursing homes must work to prevent these injuries. Since 1973, the nursing home neglect lawyers of English, Lucas, Priest & Owsley, LLP have been fighting for the rights of people wrongfully injured in Kentucky and Tennessee. If you or a loved one has developed bed sores as a result of a neglectful nursing home, we may be able to help you.
Bed Sores Affect More than 100,000 Nursing Home Patients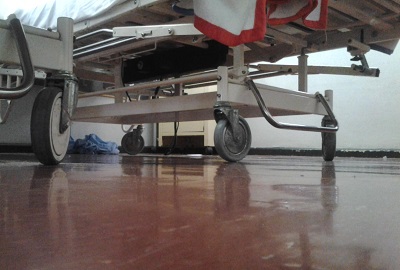 Bed sores, pressure sores, and pressure ulcers are all names for a type of wound caused by sustained pressure on a patient's skin. Pressure ulcers usually develop on the elbow, hip, heel, or back of head; however, they can develop on other areas of the body as well. According to a 2009 study by the Centers for Disease Control and Prevention, 11 percent of U.S. nursing home residents had pressure ulcers in 2004. The study found that patients with recent weight loss were more likely to have bed sores than those whose weight was stable.
Kentucky Law Protects Neglected Nursing Home Residents
A nursing home that neglects its residents, causing them to develop pressure sores, can face legal liability. Injured residents can sue the nursing home for negligence. Kentucky law requires negligence plaintiffs to prove by a preponderance of the evidence that:
The nursing home owed a duty to the injured resident;
The nursing home breached that duty; and
The resident's injuries were caused by the nursing home's negligent behavior.
Nursing homes have a duty to care for their residents in a reasonable manner. This means that residents who are confined to their beds or who use a wheelchair must be repositioned at certain intervals to prevent development of bed sores. If a neglected patient develops these injuries, the nursing home may be held liable. This is true even if the person who breached the duty is an employee of the nursing home.
Many bed sores go unreported. Therefore, it is important that people with relatives in nursing homes be aware that these injuries may occur. Because of the one-year statute of limitations imposed on personal injury actions in Kentucky, it is best to talk to an attorney as soon as you suspect that your relative may be a victim of nursing home neglect. Failure to file a claim within the one-year time limit can result in the case being permanently dismissed from court.
Victims of Nursing Home Neglect Can Recover Damages
Plaintiffs who prevail in their negligence case against a nursing home may be entitled to compensatory and non-compensatory damages. Compensatory damages reimburse the plaintiff for the monetary injuries such as past and future medical bills. Noneconomic damages compensate the plaintiff for damages such as pain and suffering or mental anguish.
Protect Your Relatives in Nursing Homes
Nursing home staff must closely follow pressure ulcer prevention protocols. If not, residents confined to a bed or a wheelchair can develop these painful injuries. The Kentucky nursing home negligence attorneys of English, Lucas, Priest & Owsley, LLP can help you if you or a loved one have developed pressure ulcers as a result of neglect. Since 1973, we have helped countless residents of Kentucky, in areas such as Elizabethtown, Glasgow, Logan County, and other neighboring areas recover and collect compensation for personal injuries. Call (270) 781-6500 or visit our contact page to schedule a free consultation.