Nursing Home Falls
Nursing Home Neglect Lawyers Serving Kentucky
Falls can be dangerous for nearly any segment of the population, but seniors are especially vulnerable. Nursing homes must take care to minimize the risk of their residents being injured in a fall. The Kentucky nursing home negligence attorneys of English, Lucas, Priest & Owsley, LLP are advocates for nursing home residents injured by falls. If you or a relative have been injured in a nursing home fall in Kentucky or Tennessee, we can help you seek compensation for those injuries.
Falls Are the Leading Cause of Injury for Older Americans
According to the Centers for Disease Control and Prevention, one in three adults aged 65 and older fall each year, making falls the number one cause of both fatal and nonfatal injury for this demographic. Unfortunately, being placed in the care of a nursing home does not make residents immune to these dangers. Although only about five percent of adults 65 and older live in nursing homes, residents of these facilities account for about 20 percent of the fall fatalities for older adults.
Negligent Nursing Homes May Face Legal Liability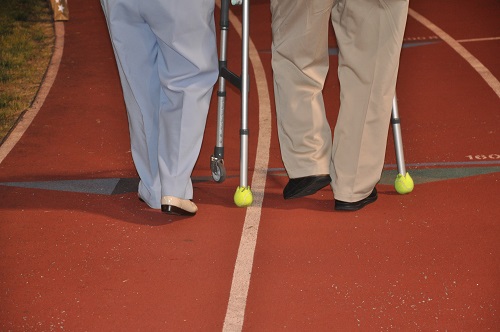 Depending on the circumstances of the fall, a resident injured in a nursing home fall may choose to file a number of claims. One of the most common is a lawsuit that alleges negligence on the part of the nursing home or a staff member. To prevail in a negligence lawsuit, the plaintiff must prove: (1) the nursing home owed the plaintiff a legal duty; (2) the nursing home somehow breached its duty; and (3) the plaintiff's injuries were proximately caused by the defendant's actions.
Nursing homes owe their residents a duty to act reasonably. This duty, which extends to the staff, usually involves taking certain precautions to prevent falls and following careful protocols in the event of a fall. Failing to abide by these precautions would be considered a breach of this duty. If such behavior causes a resident to fall and sustain injuries or even pass away, the resident or his or her family would have a potential negligence or wrongful death case. Even if the breach was committed by a staff member, Kentucky law may allow the plaintiff to hold the nursing home responsible if the staff member was an employee of the nursing home.
In other cases, an injured nursing home resident may choose to file a premises liability or medical malpractice lawsuit. Ask an experienced lawyer about the best course of action for your situation.
Injured Nursing Home Residents May Seek Damages
A person who files a successful personal injury lawsuit against a negligent nursing home may be entitled to damages. The defendant can be required to pay for compensatory damages such as such as medical bills. In addition, the defendant must pay to compensate the plaintiff for more subjective injuries, such as pain and suffering or emotional distress. Finally, some plaintiffs may be entitled to punitive damages if the defendant's behavior warrants punishment according to Kentucky or Tennessee law.
Helping Protect the Rights of the Elderly
The fact that a person lives in a nursing home does not mean that the person has surrendered his or her rights. Nursing homes that behave negligently with regard to their residents' safety must pay for their actions when a resident is injured. The Kentucky nursing home abuse lawyers of English, Lucas, Priest & Owsley, LLP have decades of experience fighting for the rights of seniors injured in nursing home accidents. If you or a loved one has been injured in a nursing home fall, call (270) 781-6500 or fill out our online contact form to see if we can help you. Based in Bowling Green, we serve clients throughout Kentucky and Tennessee, including local communities such as Franklin, Owensboro, and Warren County. We also serve clients in Tennessee.