Defective 3M Military Earplugs
We are currently accepting Defective 3M Military Earplug cases.
Permanent Hearing Loss and Tinnitus Linked to Defective Military Issued Ear Plugs
If you served in the military between 2003 – 2015, were issued dual-ended earplugs during service, and now suffer from permanent hearing loss or tinnitus, you could qualify for compensation.
3M to Pay $9.1 Million in Lawsuit Over Defective Earplugs
The 3M Company has been ordered to pay a large sum of money for defective earplugs they sold to the military many years ago. 3M has agreed to pay a total of $9.1 million to settle allegations it knowingly sold the defective combat earplugs to United States military without disclosing defects that limited the effectiveness of the devices. This lawsuit is not against the government or the armed services and does not affect disability benefits.
3M and its predecessor, Aearo Technologies, Inc., were aware that the earplugs sold to the military were too short for proper insertion into the ears, would loosen, and not effectively protect the users' ears. As a result, members of the military who used the defective products may suffer from tinnitus (ringing in the ears), hearing loss, and other ear and hearing-related problems.
The now-discontinued Combat Arms™ Earplugs Version 2 were standard equipment for military deployed to Afghanistan and Iraq between 2003 and 2015. According to reports, over 1.6 million veterans have reported service-connected tinnitus. About 80% of those who suffer with the condition just live with it, and 20% of sufferers are so affected by it, they will seek medical attention.
Do I Have a Claim?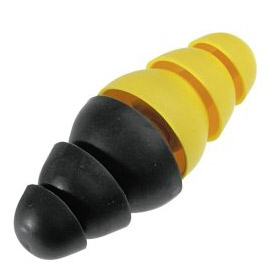 You or a loved one may be entitled to compensation from the makers of these earplugs if:
Service in the military between 2003 – 2015
Were issued and used these yellow and dark green earplugs
Have hearing loss, hearing injury, or tinnitus
Why Should I Talk to an Attorney?
Filling a claim against 3M could help you get compensation for:
Pain & suffering
Medical bills
Past lost wages
Future lost wages
Permanent or temporary disability
Punitive damages
Loss of enjoyment of life
What Do I Need to Do?
Protect Your Rights by Hiring an Experienced Lawyer
At ELPO Law, we appreciate the service of all of our veterans and are passionate about assisting with all legal matters. If you or someone you know has suffered hearing loss or tinnitus from these defective 3M earplugs, we can review your case with you, at no charge to you, to determine if you are eligible to file a claim against 3M. It is important to act quickly. Contact attorney Jessica Shoulders at (270) 781-6500 or jshoulders@elpolaw.com for assistance with your case.