Truck Accidents
Kentucky Tractor Trailer Accident Lawyers
A tractor trailer loaded down with cargo can weigh up to 80,000 pounds. So it's no surprise that accidents involving large trucks can cause serious injuries to those involved. English, Lucas, Priest & Owsley, LLP is a Bowling Green law firm comprised of Kentucky truck accident attorneys with more than a century of combined experience. If you have been injured in a truck accident, contact us today to put our strength, knowledge, and experience to work for you.
Commercial Vehicle Accidents Are More Dangerous
According to a report prepared in part by the Kentucky State Police, truck accidents are the second most common type of traffic accident in Kentucky. In 2012, truck accidents accounted for 3.5 percent of all accidents; however, they were responsible for 7.6 percent of traffic accident deaths. This statistic illustrates the fact that truck accidents, on average, are more dangerous than passenger car accidents. Statistics from the Federal Motor Carrier Association show that there were 3,757 people killed in accidents involving large trucks in 2011, trending upward from 2009. Another 88,000 people were injured in accidents involving large trucks in 2011. Truck accidents are often more dangerous, costly and catastrophic than passenger vehicle wrecks.
Kentucky Law Provides a Remedy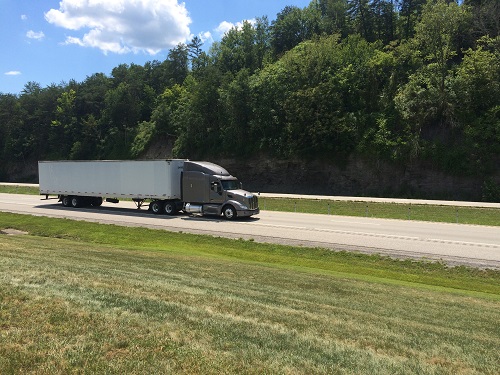 Those injured in an accident with a commercial vehicle can file a negligence lawsuit, which allows the recovery of damages. A truck accident plaintiff must prove:
The defendant (usually the truck driver or trucking company) owed a duty to the plaintiff;
The defendant breached the duty; and
The defendant's actions were a cause of the plaintiff's injuries.
Truck drivers owe a duty to everyone else on the road to drive reasonably. In addition, trucking companies have a duty to follow rules and regulations and provide adequate training to their employees. If a trucker drives too fast for conditions, makes unreasonably wide turns, or drives while tired, he has likely breached this duty. Likewise, a trucking company that violates cargo laws has probably violated its duty. If the plaintiff can prove that one of these violations proximately caused her injuries, she is entitled to damages.
Victims of truck accidents should contact an attorney as soon as possible after the accident for two reasons. First, Kentucky has a relatively short statute of limitations: just one year after the plaintiff learns of the injury. Second, truck accidents usually require the plaintiff to gather important evidence from the defendant, such as driver logs, insurance policies, and maintenance records. The sooner an experienced attorney is hired to litigate a truck accident, the more likely it is that these records can be recovered.
Truck Accident Victims May Seek Damages
Plaintiffs who bring a successful lawsuit within one year of sustaining their injuries may be entitled to compensatory damages. Hospital and other medical bills, lost wages from missed work, property damage, and emotional distress are all examples of injuries that can potentially be covered by compensatory damages. In certain rare cases, the plaintiff may also seek punitive damages. If you are unsure of the damages to which you are due, contact a knowledgeable lawyer.
Experienced Tractor Trailer Accident Litigators
A tractor trailer accident can cause significant bodily, financial, and emotional injuries. The Kentucky truck accident lawyers of English, Lucas, Priest & Owsley, LLP have been litigating truck accidents for years. If you have been injured in an accident with a commercial vehicle Kentucky or in the Nashville, Tennessee area, call (270) 781-6500 or visit our contact page to schedule a free case evaluation.