Rear End Collisions
Car Accident Attorneys in Kentucky and Tennessee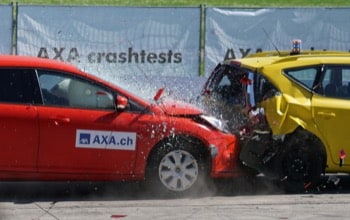 Rear end collisions are all too common. Drivers stopped at a light, a stop sign or halted in traffic tie-ups may find their lives unpleasantly interrupted by a car crashing into theirs.
A rear-end collision is automatically the fault of the person driving the car in the rear. Both vehicles can be damaged. In addition, a rear end accident can hurt both drivers and passengers.
Damage from rear end wrecks
Obvious vehicular damage can include a smashed-in trunk, dented bumper, or other damage to the car in the front. The car in the rear may have cosmetic damage, such as dents, or it may have more serious engine damage. If the frame of either vehicle is bent, it may be considered totaled.
Physical problems for the drivers and passengers involved in rear end collisions can include broken bones, concussions, and bruises, and much worse, depending on the circumstances. If the car in the rear is traveling at a high rate of speed, the physical damage can be much greater. Death is even a possibility.
Rear end collisions have another important consideration: while you may not have any outward sign of physical injury, you may discover later that you have whiplash or another neck injury, or that your back hurts, has spine damage or other issues. These types of injuries may not be detectable right away, or may worsen over time. This is part of why it is important to be sure your receive a thorough physical examination following a rear end accident.
Causes of rear end accidents
Drivers have more distractions available to them now than ever. As drivers text, change their music, eat, tend to children or even read while driving, their eyes leave the road and their reaction time is delayed. They may look up just in time to see the inevitable accident getting ready to occur – but not be able to do anything about it.
Speeding is another cause of rear end accidents. Motorists may be going entirely too fast and are unable to stop.
Weather – including rain, ice, snow and wind – may make it difficult or impossible to stop in time.
For all of these reasons, it is important for drivers to leave plenty of time between themselves and the car in front of them, giving them plenty of time to stop, if needed.
Get help from an experienced attorney
After a rear-end collision, you will likely be offered a settlement from an insurance company, possibly the other driver's, or, if the driver is not insured, your own. You will want to consider it carefully. You may be pressured by the insurance company to sign right away, but you are not obligated to do so.
Instead, meet with an experienced attorney to be sure you are being fairly compensated for any injuries you may have incurred or damage to your vehicle.
We can provide a free initial consultation to you concerning your accident. Call us at (270) 781-6500 or use our contact form here.