Wide Turns
Kentucky Truck Accident Law Firm
Truck drivers who make wide or unsafe turns endanger the other drivers and passengers on the road. Since 1973, the Kentucky and Tennessee truck accident attorneys at English, Lucas, Priest & Owsley, LLP have been helping truck accident victims from Allen County, Barren County, and throughout Kentucky and Tennessee. If you have been injured in a truck accident caused by a truck's wide turn, you may be entitled to compensation.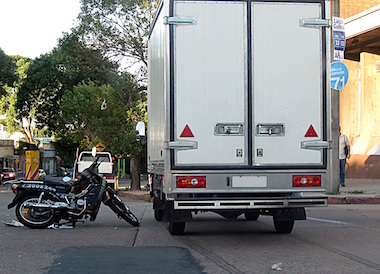 Both Kentucky and Tennessee have many interstate highways that carry tractor-trailer traffic. Some of those highways are Interstate 65, Interstate 69, Interstate 24 and Interstate 40, as well as Interstate 64 and Interstate 71. Other roads that carry large trucks include the Louie B. Nunn Cumberland Parkway, the Bluegrass Parkway, William H. Natcher Parkway and Western Kentucky Parkway. We work with clients who have been injured on any of these roads, and many more highways throughout Kentucky and Tennessee.
Improper Turns Cause Hundreds of Truck Accidents Yearly
Improper turns are a recurring cause of truck accidents. In 2012, 140 truck crashes were caused by improper turns, according to a report prepared in part by the Kentucky State Police. Although commercial vehicles sometimes need to make wide turns, they must always be completed safely. A truck driver who injures another person by making an unreasonably wide turn may face liability in court.
Kentucky and Tennessee Laws Allow Accident Victims to Hold Defendants Liable
A person injured in a truck accident can file a lawsuit against the truck driver or his employer. To prevail in a negligence lawsuit — the most common type filed by truck crash victims — the plaintiff must prove that:
The defendant owed a duty to the plaintiff;
The defendant breached the duty; and
The plaintiff's injuries were caused, at least in part, by the defendant's negligent behavior.
A truck driver has a duty to drive in a reasonable manner. Although some streets may require a truck to make a wider turn than a normal car, the truck driver still has a duty to do it in a way that does not endanger other people or property. If the driver breaches that duty and causes an injury accident, the driver or his employer may be liable for damages.
Even if a person injured in a truck accident is partly at fault for the accident, Kentucky and Tennessee laws allow the person to recover a portion of his damages. Kentucky follows the rule of pure comparative negligence, which says that a plaintiff who is partially at fault for the accident may recover a portion of his damages inverse in proportion to his fault.
Tennessee, on the other hand, follows a modified comparative negligence rule which provides that plaintiffs who are 50% or more at fault may not collect damages.
Whether or not a plaintiff believes he may be partly at fault for an accident involving a commercial vehicle, it is important to contact an attorney as soon as practicable after the crash. A knowledgeable attorney who is quickly notified of a truck accident can work to secure important evidence before it is destroyed or lost.
A Prevailing Plaintiff May Collect Damages
A plaintiff who successfully brings a negligence lawsuit in Kentucky or Tennessee is entitled to damages. Economic compensatory damages can be awarded to plaintiffs who have suffered losses that are easily calculated, such as medical bills, wages lost from missed work, or damage to a vehicle. Plaintiffs may also collect noneconomic damages for injuries that are harder to place a value on, such as mental anguish.
Trust Your Truck Accident Case to Experience
A truck accident can have a devastating effect on those involved. Based in Bowling Green, the Kentucky tractor trailer accident lawyers at English, Lucas, Priest & Owsley, LLP have been serving people in local communities including Hopkinsville, Russellville, and Leitchfield, Kentucky,since 1973. We also represent victims in Nashville and throughout Tennessee. If a wide-turning truck caused you injuries, call (270) 781-6500 or visit our contact page to schedule a free consultation.