Accidents at Intersections
CAR ACCIDENT ATTORNEYS IN KENTUCKY AND TENNESSEE
Intersections are designed to ease traffic flow and help drivers find their way. Often, though, intersections are where traffic accidents occur. Some intersections are poorly designed, and some are confusing to drivers, especially those with turn lanes. This only compounds traffic problems.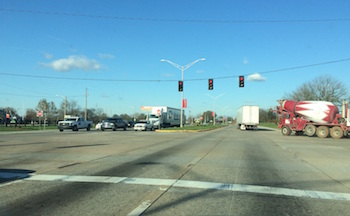 As early as the 1990s, the American Association of State Highway and Transportation Officials singled out intersections as particularly problematic in its Strategic Highway Safety Plan. A 1992 study indicated that intersections were responsible for more than 50 percent of accidents on roads in urban areas and 30 percent of accidents in rural areas – despite the fact that intersections are only a small part of the roadways in America.
Unsignaled intersections – those without a traffic light – are more difficult for drivers to negotiate because they may not understand who has right-of-way. Drivers sometimes don't see stop signs placed at these intersections. In some cases, trees, grass, shrubbery and other growth obscure the signs.
RUNNING A RED LIGHT, STOP SIGN ARE COMMON CAUSES
A later study, released in 2007, examined fatalities at intersections. The study was by the National Highway Traffic Safety Administration.
That study concluded that running a red light or a stop sign are the most common causes of fatal accidents at intersections. The study indicated there were 800 fatalities on average each year between 1997 and 2004 that involved at least one driver who didn't stop for a red light. The statistics for running a stop sigh are even higher, with 1,336 fatal wrecks on average during the same time period in which one driver ran a stop sign. All of those accidents involved two-car accidents.
Older drivers more often caused these accidents, which were most commonly caused by failure to yield while making a left turn. The older driver's vehicle was most often struck on the passenger side.
Kentucky had 6,256 fatal crashes at intersections during that same time period, the report indicates.
MORE DISTRACTIONS, MORE INTERSECTION ACCIDENTS
Since those studies were completed, drivers are more distracted now than ever. Talking on the phone, texting, fiddling with complicated entertainment systems are all distractions that motorists largely didn't face 25 years ago. Those distracted drivers don't realize that they're approaching a red light, causing a rear-end wreck with the car in front of them. Back injuries, whiplash or other medical problems are often the result of such accidents. Injuries can be much more severe than that, and can even be fatal.
OUR ATTORNEYS CAN HELP YOU
Our firm's attorneys have significant experience handling accidents at intersections. We know which intersections have seen multiple wrecks and can help you find the expert witnesses you need to present your case to an insurance company or in court. We always recommend discussing your accident and your circumstances with an experienced attorney prior to signing anything or accepting any kind of settlement from an insurance company, even if it is your own insurance company. We can help you make sure you get the compensation you deserve.
If you'd like to discuss your car accident case with us, you can reach us at (270) 781-6500 or fill out our contact form here.