Hit and Run Accidents
Car Accident Attorneys in Kentucky and Tennessee
When you are involved in an accident, particularly when you are at fault, you should stay at the scene until medical help and/or police arrive. Some drivers, though, know they're likely to be in trouble with the law or with another driver and decide to leave. Drivers who make this decision are violating the law, and their decision can be used as evidence in a civil action against them if the other driver decides to seek compensation.
Hit and run accidents are on the rise nationally. Alcohol is often a factor in these crashes, and one of the reasons the driver at fault might flee the scene. Other reasons a driver might flee the scene may include that the driver isn't properly licensed. The driver may be under aged or may be driving on a suspended license. Any of those factors may help you when you pursue a civil case against the perpetrator of the accident.
Hit and run wrecks on the rise
In some cities, hit and run accidents are a large percentage of accidents. A USA Today story examining the increase in accidents in which the driver presumed to be at fault left the scene noted that nearly half of the accidents, about 48%, in Los Angeles were hit and run wrecks in 2009. A publication based in LA, LA Weekly, reported that out of 20,000 hit and run accidents in the city, some 4,000 resulted in an injury or death.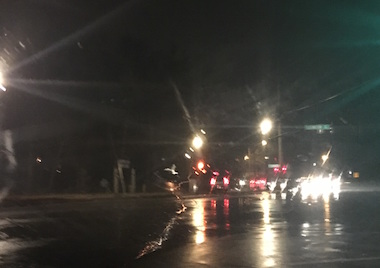 Kentucky's hit and run statistics show that drivers leaving the scene of accidents is a serious problem here, too. A 2014 report from the Kentucky State Police reports that there were 11,517 hit and run accidents in the state, with nine of those being fatal accidents. About 960 of those accidents resulted in someone being injured. Pedestrians were injured in 143 of these accidents, and cyclists in 38.
The largest percentage of these accidents occurred on city streets, with 4,606 accidents occurring in cities. But hit and run accidents really can happen anywhere – and when they do, you need good advice from an attorney.
Your rights in a hit and run accident
If you are involved in an accident, do not leave. If anyone does need medical help, call 911.
Even if no one is injured, it is important to stay at the scene to give your account of the accident to the police, particularly if you believe you are not at fault. This account may be used by insurance companies to determine whether or not to issue payment to you or the other party. The information may also be used in a future civil lawsuit.
If you can do so safely, snap photos or record video with your cell phone of the accident scene. If you suspect the other driver may leave, take photos of their vehicle and their license plate.
You may be presented with paperwork to sign by your own insurance company or the other party's insurance company. Don't sign anything until you have had the information reviewed by an experienced attorney. You will want to be sure you are making the best deal for yourself and anyone else involved in the accident and you may be signing away rights that you will wish you had later in the process.
Contact our experienced attorneys
Our attorneys know the law concerning hit and run accidents and can help you decide if you need to pursue a civil action against the other party in such an accident. If the driver is convicted of criminal behavior, that can be used as evidence in a civil lawsuit.
Contact our firm, English, Lucas, Priest and Owsley, LLP, at (270) 781-6500 or use our contact us form to send us your information. There is no charge for an initial review of your case.