Automotive Defects
CAR ACCIDENT ATTORNEYS IN KENTUCKY AND TENNESSEE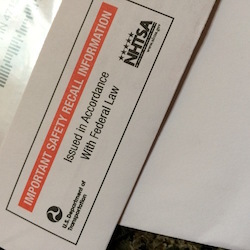 Cars are immensely complicated pieces of equipment. Think of the thousands of parts in a vehicle and the potential for something to go wrong. You can see why there are thousands of recalls each year on automobiles, some of which directly affect the safety of a vehicle.
In the case of an automotive recall, the company that makes the vehicle is admitting fault, or the National Highway Traffic Safety Administration has found fault in a vehicle. In either case, a problem has been noted and needs to be rectified. Consumers have a right to receive compensation for any damages, injury or deaths that may have occurred because of the defect, and/or the costs of renting or purchasing another vehicle due to the problems. To check to see if your vehicle has been recalled, visit the NHTSA web site and search for your vehicle by VIN number.
RECALLS INCLUDE AIRBAGS, SEATBELTS, TIRES
The most significant and complex recall in recent years are the Takata airbag recall, which affected 100 million vehicles worldwide. Takata airbags were installed in cars made between 2001 and 2015 in vehicles made by 14 different manufacturers, including Honda and Toyota. Consumer Reports keeps up-to-date information on its web site about the recall, which you can find here.
In 2000, Firestone and Ford recalled 14.4 million tires due to a potential tread separation issue that could be deadly if the problem happened at a high rate of speed.
General Motors announced recently that it will recall Chevrolet Silverados and GM Sierra pick-up trucks due to a seatbelt problem. The steel cable that connects the seat belt to the vehicle becomes worn over time. Volvo also recently had a recall on seat belts that it described as a quick fix. While it may be, it's still incumbent upon the consumer to take the vehicle in for repair.
YOUR RIGHTS IN A RECALL
If you receive a recall notification about your vehicle, don't ignore it. In most cases, recalls involve the safety of your vehicle, and you will need to take action to ensure that you and anyone who rides in your vehicle are safe.
If you did not know about the recall and you are involved in an accident, this may factor into where and how you seek compensation for your injuries, lost wages and other elements that courts can consider in a lawsuit.
Even if you are not involved in an accident, a recall can affect you and you have the right to seek compensation. Do not accept a settlement or offer from a car manufacturer, car dealer or anyone else until you have reviewed your options with an attorney. We can recommend the best course of action for you. Contact us through our contact form, which you can find here, or call us at (270) 781-6500. The initial case review is free.