Hit by a Driver who Ran a Red Light
Car Accident Attorneys in Kentucky and Tennessee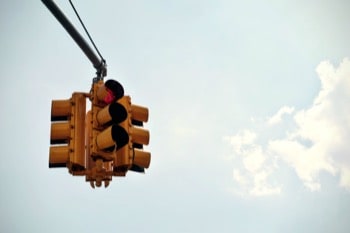 It can sometimes be tough to judge who was at fault in a car accident. One example of a car wreck that's almost always the other driver's fault is when that driver runs a red light.
Red lights indicate exactly what any reasonable person would think: stop. Even if you're making a right turn on red on a roadway where that is permissible, you must first stop and ensure no one is coming and that it is safe to turn right.
Red never means go. Yellow means slow down – and green means go only if the intersection is clear. It is incumbent on drivers to be sure that intersections are clear, but only to a point. A speeding driver who runs a red light and hits you is tough to avoid.
These type of accidents most often occur when a traffic light is yellow, and a driver speeds up to avoid having to stop. The driver may even dispute that the light was red when they drove through it. Proving that the light was red will be important. Witnesses at the scene may be able to help you do this, including passengers in your car and passengers in the other vehicle.
If you or anyone else involved is injured, get medical help right away. Even if you aren't sure, it is best to be examined by a medical professional to be sure that you and everyone else involved are not injured. If you think everyone is OK, you can then begin to make some observations.
Red light accidents: things to look for
First of all, avoid any kind of confrontation with the other driver or anyone else involved. Also, be safe. If you are still in the center of an intersection, don't walk around. Call police to prepare an accident report.
Take photos with your phone of your vehicle and the other vehicle that shows the position of each one. Take photos of any skid marks made by you or the other vehicle involved, and debris in the roadway. Once the police have arrived, you will be asked to give an account of what happened. It is helpful to get information from witnesses who saw the accident. Get their full name and a phone number from them in case you, an insurance company or attorney need to reach them later.
You will need insurance information from the other driver, as well as their full name and a phone number. Also ask for a home address. If the driver seems to be intoxicated or in any other kind of altered state, be sure to tell police. If you notice any containers of alcohol in their vehicle, note that.
Insurance payments after a red light accident
If the other driver is at fault – and that's likely if they ran a red light – their insurance company will likely handle any claim that arises from the accident.
The insurance company may try to argue that the other motorist should have seen the car coming. The insurance company's first move will probably be to try to get you to accept some percentage of fault. Your goal is to get the opposing party's insurance to accept as much fault as possible on behalf of their insured. This will make it so that the insurance company pays you more value for your damaged vehicle and your bodily injuries, getting you closer to fair compensation.
Before you accept any kind of settlement, be sure to ask an experienced attorney to review any paperwork you're asked to sign, and don't accept any money until you've spoken to a lawyer.
We can provide a free initial review of your case. Please contact our firm at (270) 781-6500 or use our contact form. We will be happy to help you.